2023 Music Literacy Program (MLP)
Saturday, November 11, 2023
Gonzaga University Music Hall
Scroll down for:
Directions & Parking
Instructions
Schedule
Attire
DIRECTIONS & PARKING
Visit this page on the Gonzaga University website for directions to campus.
MLP 2023 will be held in "Music Hall" at the end of Lidgerwood St where it intersects with Boone Ave (not the "Music Annex.")
Gonzaga University Parking said they do not enforce parking on the weekends. However, they recommend avoiding "Yellow" campus lots at all times.
The below map lists several options for parking: (red = parking; Music Hall circled in yellow)
- Street parking on Sharp Ave
- Street parking on Lidgerwood St
- Lot parking by the Woldson Performing Arts Center ("WPAC")
- Lot parking by the Bing Crosby House ("BCH")
- Free garage parking at the Boone Avenue Retail Center ("BARC")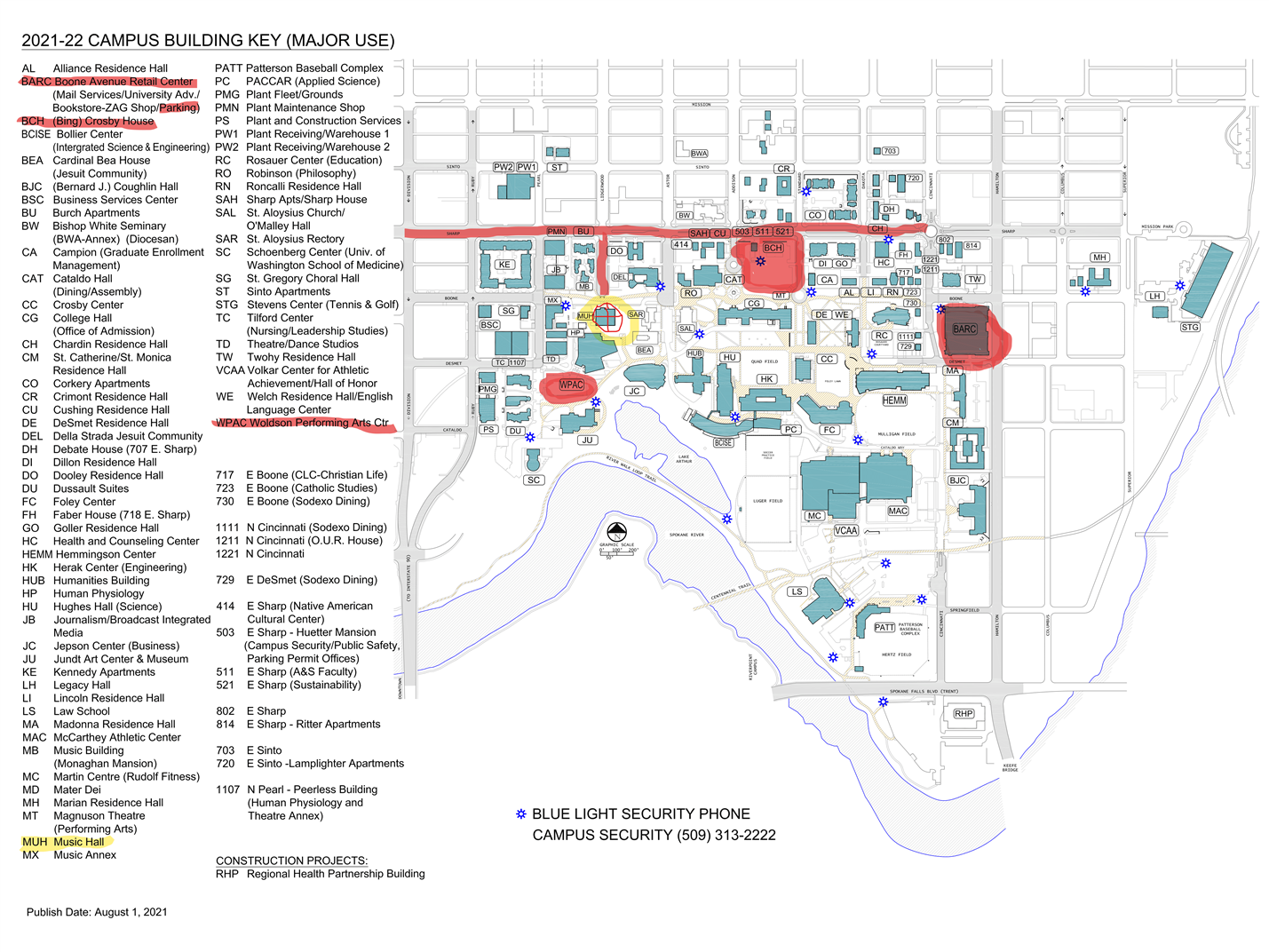 INSTRUCTIONS
Be sure to bring the "MLP Student Form" which we filled out in your most recent lesson. Keep it with you, as you will need to present it throughout the day.
Check in with the Registration Desk when you arrive. They will confirm your various assessment levels & guide you to the correct time/location for each evaluation.
Some students may need to visit up to 3 locations throughout the day.
ATTIRE
Follow the guidelines on our Recital Attire page.
SCHEDULE
Each student is scheduled for up to 3 events throughout the day:
Technique: this is the "main event" of the day. You are given a scheduled one-on-one appointment time with an adjudicator, who will assess you in various categories.

Don't miss it!

Written Theory: This is a proctored written quiz. Drop-in to Room 101 anytime from 9am-1:45pm. It should take no more than 30 minutes to complete the quiz.
Listening: This is a proctored listening quiz with written responses. You will be given a scheduled appointment time (for some, this will be included in the Technique appointment.)

Don't miss it!
Peak Piano Studios student schedule 2023
Name

Technique/Rhythm/S.R.

Listening

Written Theory

Agee-A

9:30am

Rm 112

10:35am

Rm 111

Drop in/out:

9:00am – 1:45pm

Rm 101

Agee-J

9:40am

Rm 114

Drop in/out:

9:00am – 1:45pm

Rm 101

Arndt-L

10:45am

Rm 112

11:05am

Rm 111

Drop in/out:

9:00am – 1:45pm

Rm 101

Downey-A

11:15am

Rm 112

9:30am

Rm 111

Drop in/out:

9:00am – 1:45pm

Rm 101

Heimbigner-N

12:30pm

Rm 114

Drop in/out:

9:00am – 1:45pm

Rm 101

Jerdon-R

12:45

Rm 116

Drop in/out:

9:00 – 11:30am,

12:15 – 1:45pm

Rm 106

Drop in/out:

9:00am – 1:45pm

Rm 101

Ryan-J

10:33am

Rm 114

Drop in/out:

9:00am – 1:45pm

Rm 101

Tornabene-M

9:53am

Rm 111

Drop in/out:

9:00am – 1:45pm

Rm 101